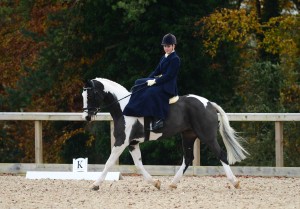 On Sunday 24th November Rectory Farm held their Unaffiliated Autumn Championships. Competitors braved the cold and danced their way through the day in four different classes ranging from Walk and Trot to Advanced Medium tests. Lovely prizes and rosettes were kindly sponsored by the series supporters Sydney Free Saddlery. 
Rhianen Godfrey-Cass rode Nicky Ford's 5 year old Scooby to victory in class one scoring 67.37%. The Ford's also had another success in this class with Nicky's 7 year old daughter Heidi who has improved throughout the series to come third with her 19 year old pony Bailey.
Class two was won by Madeline White, she rode her very elegant horse Tickeridge and scored 77.2%, the highest score of the day. Second went to Pandora Brisleden who scored 73.2% riding her smart dun pony Landwell Peppercorn and third went to Stuart Nie and Macavity Van-T Steinershof with 69.6%.
Hannah Goddard scored 69.58% in class 3 for a win on her handsome chestnut gelding Drewmain Moonman. Judge Jan Brooks commented on what a fantastic partnership Hannah has with this young horse and sees great potential for the future. Second place went to Jude Matthews riding Hoi Polloi. Jude was so pleased to be back out competing, she had previously given her mare two years off competitions to get her more relaxed. Patricia Haskins and her lovely 5 year old coloured mare took third with a great score of 68.33%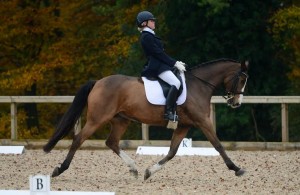 Class four gave an option of riding novice to advanced medium tests. This had been a great opportunity for riders to compete at a higher level but in an unaffiliated environment. Lisa Sterrow was the victor riding an elementary test with her horse Chips. Judge Nick Rodgers was impressed with Lisa and Chips active and fluent test he scored them a fantastic mark of 71.33%. Second place with 68.7% went to Emily Carmichael and Wolkenlos riding a medium test and equal third went to Chloe Gunn who rode side-saddle on her horse Oaklawn Gypsy and Morgan-Beth Crockford on her lovely pony Arthen Mellten.
Great thanks go to our sponsors Sydney Free Saddlery and we look forward to 2014!
Dates for next year's dressage and show jumping competitions are on our website