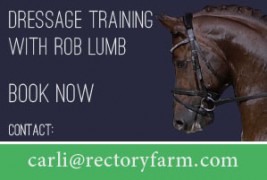 Dressage training with Rob Lumb at Rectory Farm will run every Tuesday from 8.00am. These sessions remain the same format as those that ran through 2012; sessions are private and last 40 minutes for only £38.
Rob has worked with horses around the world, competiting in both dressage and eventing in the United States before returning to the UK to work for an international dressage rider training young horses. He went on to work for the Bechtolsheimers for ten years as Stable Manager, developing their young horses, travelling to competitions and making the most of the opportunity to develop his skills through training.
Following his time with the Bechtolsheimers, Rob went on the work as Yard Manager for Emile Faurie, From here, Rob went on to start up his own yard. Based in Gloucestershire, he has a loyal and expanding client-base that compete from novice to international standards. Rob also provides regular dressage training for the UK U21's
To book your place or for more information please email [email protected]. When paying for your lesson please use the envelopes provided in the secretaries shed next to the big arena. Please put your payment of either cash or cheque and write your name on the envelope then place in the post box.