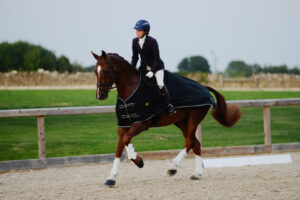 Bex Hibberd  riding Cannabel to victory in Class 1.
On Wednesday 28th August we held our Unaffiliated Evening Dressage Championship. Competitors who had qualified throughout the series battled it out in the evening sunshine. Lovely prizes and rosettes were kindly sponsored by the series supporters Sydney Free Saddlery.
Bex Hibberd from Cirencester rode her handsome 17.2hh chestnut gelding Cannabel to victory in class one riding Prelim 7. The combination impressed judge Jackie Ellis to score 75.5% early on in the class. Bex was delighted with this result as she had brought Cannabel on the hunt field last winter. Second place went to 12 year old Zoe Martin, riding her mother Sonya's horse Raffles, she pulled out all the stops to score 71.5%. An expressive test from Morgan-Beth Crockford riding her Welsh Section C Arthen Mellten, gave them third place scoring 69.5%.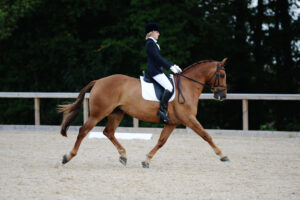 Rachel Lade and Surprise Addition on their way to winning Class 2.
Class Two, was won by Rachel Lade. Judge Miranda Lindsey was very impressed with Rachel and her horse Surprise Addition's harmonious partnership. They scored a huge 75.33% in Elementary 49 and 72.5% in Novice 34 to take first and second place in the 'pick your own test' class. Zoe Davison rode a super smart novice test on Accolino II to score 70% and took third. Demi Davis riding Stella Luminosa, Bex and Morgan finished up the top six respectively.
Sydney Free Saddlery kindly presented prizes and rosettes in a mounted prize giving just before the sun went down. Bex and Rachel were thrilled to receive embroidered rugs and beautiful champion rosettes for first prize. We look forward to welcoming back sponsorship from Sydney Frees again in the autumn.
The first date for the Autumn Series is Sunday 8th September. We are hosting four classes which range from Walk and Trot tests to Advanced Medium. All schedules for dressage and show jumping can be found on the website here.

Photos courtesy of www.stephburchphotography.co.uk